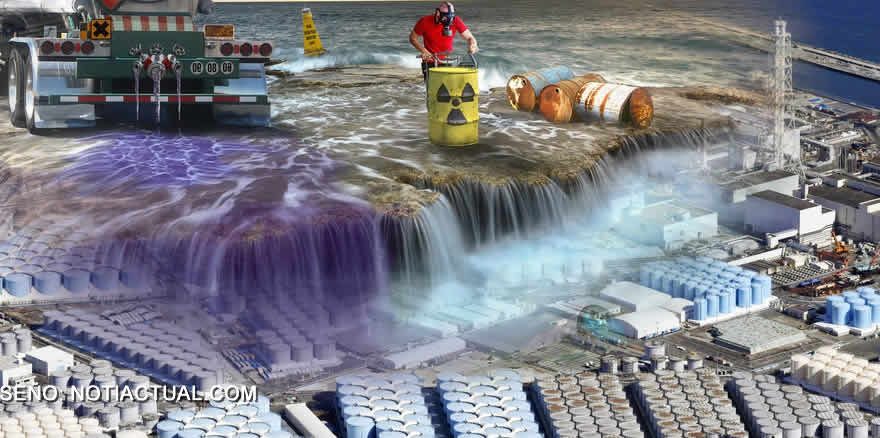 CHINA warns: "If the radioactive water from Fukushima is not dangerous, why shouldn't Japan keep it?"
Japan cannot continue to ignore the international concerns and protests generated by its plans to dump contaminated water from the Fukushima-1 nuclear power plant into the sea, Chinese Foreign Ministry spokesman Zhao Lijian said on Friday.
At the beginning of last week, the Japanese government announced its plans to dump more than a million tons of contaminated water into the Pacific Ocean that have been accumulating in tanks after the devastating earthquake and tsunami in March 2011 seriously damaged the Fukushima nuclear power plant. The plan sparked controversy in the international community, with numerous criticisms from neighboring countries, environmental groups and local fishing communities.
"The Japanese side must honestly face the doubts and protests that have arisen both at home and abroad and stop playing dumb on this issue," said the Chinese spokesman.
"The Japanese side must honestly face up to doubts and protests and stop playing dumb on this issue."
The official defended that Tokyo should not treat the discharge of sewage into the ocean as an internal matter and expressed doubts about claims that the liquid contains safe levels of radioactive particles: "If radioactive water is not dangerous, why should Japan don't you stay with her? "
The spokesman emphasized that the Japanese country "should not ignore the global maritime ecology, the health and safety of the peoples of all countries, nor should it turn its responsibility on all of humanity."
Zhao warned that Tokyo would commit a dangerous step if it puts its own interests above common international interests.
"The Japanese people, neighboring countries and the international community will not accept it. The Japanese government will pay for its irresponsible actions by leaving a stain on history," he said.
The Tokyo plans have sparked protests from some thirty Japanese civil organizations and the Federation of Fisheries Cooperatives Associations of Japan, as well as fisheries associations from three prefectures. In Fukushima prefecture, 31 municipalities, 70% of the total, have filed complaints. Within the country, 450,000 signatures have been collected against the initiative while signatures are also being collected internationally.
Dewatering work at the Fukushima plant is expected to start within two years, while the entire process would take decades. According to the plant's operator, Tokyo Electric Power Co. (TEPCO), its capacity to store the contaminated water in tanks will reach its limit in autumn 2022. It is planned to filter the liquid to remove the isotopes, leaving only the tritium, a radioactive isotope of hydrogen difficult to separate from water. Before pumping it into the ocean, the water will be diluted until its tritium levels drop below regulatory limits.
Source. RT